As I mentioned in a
previous post
, I joined Young Living back in May. And I have been loving my oils ever since! I went to an oil class that one of my friends hosted and I thought "This stuff is interesting, I need this in my life!" And that is a decision that I don't regret and never will. So starting today, I'm going to share with you each Wednesday one way that I love to use my oils! As I also mentioned before, I am not a doctor and therefore cannot make any claims that Young Living's oils will diagnose, cure, mitigate, treat, or prevent any disease.
So the first product that I am going to talk about is something I use daily. It is the Thieves Household Cleaner. It comes in either a 14.4 ounce or 64 ounce bottle and contains the essential oil blend called Thieves which consists of clove, lemon, cinnamon, eucalyptus, and rosemary. It kind of has a Christmasy smell to it!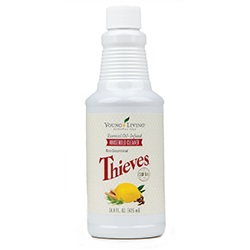 I use this to make an all-purpose cleaner. Just a capful of the Thieves Household cleaner mixed with 2-3 cups of water in a glass spray bottle and there you go! I use it to wipe down my kitchen table, counters, and even my toilets. I love that there are no harsh chemicals in this and it is a lot cheaper than the leading brand all-purpose cleaners that you buy at the grocery store. I bought a 14.4 ounce bottle of this back in May when I joined and I still have about half the bottle left, maybe even a little more than half!! And that bottle only cost me $22!! So far I have probably refilled my 16 ounce spray bottle about 4 times, maybe 5. That's definitely cheaper than buying Clorox or Lysol. And it's a lot safer as well! Being the mom of 2 kids, I'm definitely concerned about the chemicals my kids are exposed to so this product is great!
Leave me a comment or send me a message through my contact form on the right if you have any questions or may be interested in starting your own oily journey! Have a great Wednesday!!